SAT Betonmischer SAT - H (hydr.)
EUR 3.540 wliczony VAT 20% (2.950 bez VAT 20%)
- für Beton, Mörtel, Estrich, Futtermischen, Saatgutbehandlung,...

- extrem stabiles Ölbadgetriebe
- vier gefederte Arme
- nachstellbare Rührschaufeln
- hervorragende Mischwirkung
- 3-Punkt und Palettengabelaufnahme
- inkl. Schutzbügel, Auslaufgosse, Spritzblech, Seitenwandabstreifer

Technische Daten:
- verschleißfester Stahl
- pulverbeschichtet
- Blechstärke Wand: 5 mm
- Blechstärke Boden: 6 mm (bei SAT 1900-H 8 mm)
- Anzahl Rührarme: 4 Stk. (bei SAT 1900-H 5 Stk.)

Preise:
- SAT 1200-H: € 2950,-- (Durchmesser 120, Mischvolumen 600 l)
- SAT 1500-H: € 3600,-- (Durchmesser 150, Mischvolumen 800 l)
- SAT 1900-H: € 4850,-- (Durchmesser 190, Mischvolumen 1200 l)
- Aufpreis Selbstladeschaufel: ab € 1560,--

Przetłumacz opis
Typ:
Betonmischer SAT - H (hydr.)
Potwierdzony adres
Potwierdzony nr telefonu
Very good data quality

Overall rating
Sensenberger Agrar-Technik
Oberbreitsach 15
4906 - Eberschwang
Landwirt.com Auszeichnung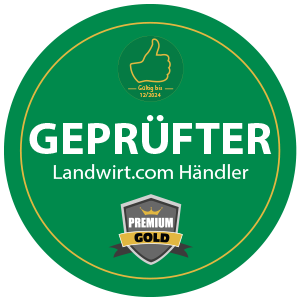 Aktualności dealera
Weidemann 1880-Vollausstattung

Weidemann Hoflader 1880

Jetzt anrufen

Futtermischwagen Euromilk

10m³-NEU

office@sat-agrar.at
Reviews of the dealer
Beste Verkaufsberatung, fairer Preis u. außerordentliche Hilfsbereitschaft... -gerne bald wieder....super Produkte...
Sehr gute Beratung, top Preise !
Sehr freundliches Personal, Top Preise. Nur zu empfehlen.
Freundliches Personal, super Angebote! Bin sehr zufrieden mit meinem Kauf! Danke! :)