Gaspardo MANTA 8-reihige Einzelkornsämaschine
EUR 27.990 вкл.20% НДС (23.325 не вкл. 20% НДС)
Gaspardo MANTA 8-reihige Einzelkornsämaschine (BJ: 2012) - Reihenabstand: 70 cm mit MTR Säelement, 8 Säscheiben für Mais, Vakuum-Meter, Antriebsräder 6,50 - 15, Doppelscheiben für Säaggregat, hydr. Spuranreißer, Niroandruckrollen Dm 295 mm, 2 Zoll V-Andruckrollen, zusätzliche Druckfedern, Beleuchtung mit Warntafeln, Abluftkit, Garn. Spurlockerer, Säkontrolle V 1200 und Weitwinkelgelenkwelle beidseitig - Ihr Ansprechpartner - Hr. Christoph Deschberger

Translate description
Внутренний номер: 0320IUHNN/UER155/529
Тип:
MANTA 8-reihige Einzelkornsämaschine
Condition state:
Very good (condition state 1)
Number of rows (working bodies)
8
Address verified
Phone verified
Very good data quality

Overall rating
Deschberger Karl Landtechnik GesmbH & Co KG
Oberfucking 8
4774 - St. Marienkirchen/Schärding
Landwirt.com Auszeichnung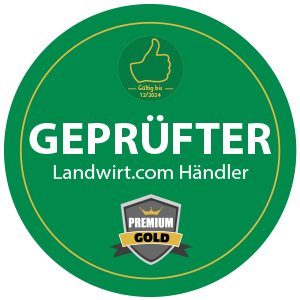 Dealer news
Wir suchen dich!

Wir suchen eine Landmaschinentechnik Fachkraft.

https://www.deschberger-landte

Wir suchen dich!

Wir suchen eine/n Servicetechniker/in für Melktechnik!

www.deschberger-landtechnik.at
Reviews of the dealer
Getreidekanone gekauft. Super Beratung. Das Gerät ist PERFEKT für unsere Anwendung. Die Abwicklung war problemlos. Diese Firma UND dieses Produkt ist EMPFEHLENSWERT ! Danke Reitsportzentrum Obersulz
Freundlich, zuvorkommend und kompetent. Beste Beratung und preislich in Ordnung.
Landwirtschaftliche Fachwerkstätte mit dem nötigen nowhow. Supergute Beratung bei neukauf von Maschinen.